Turner Baker's Guide To Chimney Repair Bristol
Do I need my chimney repaired?
A chimney is an integral part of many homes in the UK and is sought after by some buyers when looking for a new home.
Like any part of a property, a chimney can degrade over time through use and weathering and needs to be well maintained.
A chimney is generally a square or round structure that provides a solid support for an internal flue. A chimney can contain one flue or many flues and each fireplace within a property has its own flue.
In some detached or semi-detached properties, a chimney may be shared; that is, it contains multiple flues within one chimney with one or more flues going into one property and the same into the adjoining property.
The benefits of regular chimney sweeping
To keep the flues inside the chimney well maintained, they need to be swept on a regular basis.  The recommendations depend on the type of fuel that you are using.
The National Association of Chimney Sweeps offer the following guidelines:
Smokeless fuel: At least once a year
Wood – Quarterly when in use
Bituminous coal – Quarterly when in use
Oil – Once a year
Gas – Once a year
The advice is that the sweep should have appropriate tools to make sure that the brush exits the flue at the top of the chimney – this will give peace of mind that the flue has been swept all the way through. The picture below shows an unlined, unswept flue full of debris.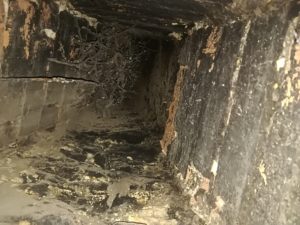 The outside of the chimney
The external face of a chimney that faces the weather also needs to be looked after. Most chimneys are made of brick in some form or other and the mortar joints between the bricks do degrade over time.  As these joints fail, there is a risk that the bricks will become loose and in windy weather may fall off the chimney onto the roof of the property.
The flue inside the chimney
The internal structure of a chimney or flue is also likely to degrade as it gets older particularly if it has been regularly used.  Deposits of soot and tar onto brick will over time cause it to crumble – the first the homeowner may know about this is when debris starts falling into the fireplace.
Another sign that all is not well inside a flue is if you can smell smoke in other parts of the property either during or after a fire has been used.  This indicates that smoke is escaping through breaches in the flue and is potentially dangerous. A chimney professional will always advise not to use a flue if you can smell smoke in other parts of a property to avoid breathing in harmful gases.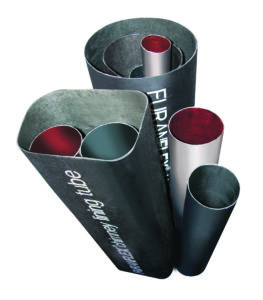 A remedy for this is to have a chimney professionally lined.  There are various different lining systems available with options to suit all properties. The entry level is a stainless-steel flue liner, there are also pumice flue liners and thermosetting resin flue liners. Clay flue liners, which are often used by the building industry are not recommended as they have very poor thermal properties, taking a long time to warm up which potentially reduces the draw of the fire.
The cost to have a chimney lined will depend on the system used.  Stainless steel is less expensive but has a shorter lifespan, a thermosetting resin liner will be more expensive but is guaranteed for longer and is easier to install into a flue that has bends in it.
Other factors affecting the price are access to the top of the chimney – can this be done safely from ladders or will scaffolding need to be erected?  Could a mobile elevating work platform (also known as a cherry-picker) be used if there is sufficient access at the base of the chimney? A professional chimney lining company will take all of these factors into consideration before preparing a quote for lining a chimney.
What if my chimney is unused?
It may be that your fireplace is boarded up and your flue is unused. If you are planning on doing this, make sure that the flue is swept and is as clean as possible before boarding it up.  Any soot that is left in your chimney contains hygroscopic salts which attract moisture through osmosis from the atmosphere. These salts will make the chimney damp and smelly and can impregnate the masonry leaving you with a permanent problem.  An unused chimney should also have a source of ventilation to prevent condensation.
If you have any concerns about the safety of your chimney or flue, or you would like to reinstate a chimney that has not been used for a while, it is always best to get advice from a chimney professional.  For more information on our chimney repair service in and around Bristol either visit www.turnerbaker.co.uk or call 01432 839123 if you would like to talk to one of our team.