Flexible Stainless Steel Flue Liners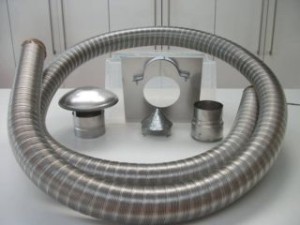 Flexible stainless steel flue liners are available from Turner Baker Ltd for either multi fuel applications or for gas and oil appliances.
Multi-Fuel flue liners (Class 1) are available in two basic grades of stainless steel. The standard product is Grade 316 which comes with a 10 year product guarantee, and the higher quality grade 904L comes with a 20 year product guarantee.
The corrugated outer wall provides crush protection during installation. The inner wall is smooth to encourage the flow of flue gasses and to discourage the build up of soot and other potentially corrosive residue.
Gas and oil flexible flue liners (Class 2) however are manufactured out of a single strip 316 grade stainless steel and are designed for atmospheric gas and kerosene appliances where the flue gas temperature does not exceed 260°C. These liners are not suitable for use with solid fuel.
Flexible flue liners are available in a comprehensive range of diameters suiting all applications, from 100mm to 350mm.
Twin Wall Rigid Stainless Steel Flue Systems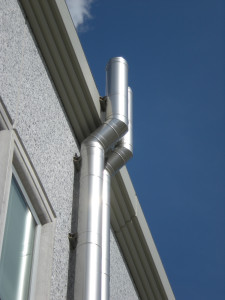 Twin Wall Flue Systems are modular insulated flue and chimney systems that can be used either internally or externally. Turner Baker Ltd can supply systems for a range of applications:
High and low temperature applications
Positive and negative pressure
Condensing appliances.
Solid Fuel, including Biomass
Gas and Oil Appliances
The liner units are constructed using a stainless steel inner liner, with at least 25mm of insulation, surrounded by a structural outer skin. Units are retained in place using locking bands and braced to adjoining structures with wall bands. The flue can then be constructed either externally or internally through the property or building, or can be free standing.
Turner Baker Ltd are able either to supply and install stainless steel flue products or, in consultation with the client, put together a full flue kit for self installation.
If you would like to discuss your requirements further please call Turner Baker Ltd on (01432) 839123 to talk to a specialist who will be able to advise on which products are suitable, put together a kit list of items required, and construct a quote for those items.