Chimney Bristol
Some of the Different Types of Chimney Liner Available
If you want to use your chimney with an open fire, gas fire or a wood burning stove you may have been told that you need to have your chimney lined. But why? Well, there are two important reasons for lining your chimney.
Reason number one – if you are building a new property with a chimney it must be lined to comply with Document J of current Building Regulations.
Reason number two – for older properties there are many safety benefits to be gained from having a chimney lined.
The most important thing to remember is that the smoke from your open fire or multi fuel stove or wood burner needs to exit via the flue as quickly and smoothly as possible.  Where a chimney is constructed from brick, the bricks may degrade and crumble over time and it is likely that the mortar in between the bricks will degrade as well.  
Any sign of degradation of the internal brickwork means that the chimney will have to be lined. This is because the flue may leak smoke into another room in the property and also, smoke will travel most efficiently through a smooth flue.  Any lumps and bumps caused by the uneven bricks on the way up through the flue will slow down the flow of the smoke; the smoke will cool and leave deposits on the side of the flue.  A build up will quickly occur and increase the risk of a chimney fire.  
The internal condition of your chimney may look fine at the moment but if you are planning to install a fire or stove and use it regularly then this will have the effect of speeding up the degradation of the brickwork on the inside of the chimney due to the heating and cooling of the bricks whilst the fire or stove is being used.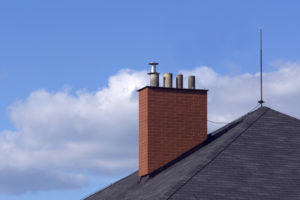 Having established that a chimney needs lining, what are the options?
There are many different types of liner on the market made with lots of alternative materials.  The main differences between the liners can be simplified into three variables – durability, longevity and price.
Furanflex
A relative newcomer to the market is the Furanflex thermosetting resin lining system.  In layman's terms this refers to a liner that is supplied as a soft malleable material which can be inserted into a chimney Bristol and which is then steamed or 'cured' into a hardened structure that is resistant to heat and high temperatures.
The Furanflex liner was introduced to the UK in 2010 following a rigorous testing programme to ensure that the product met UK standards. The product has been certified by BBA (British Board of Agreement see website here).
There are many benefits to using a Furanflex lining system.  Firstly, the product is installed as a flexible tube.  For properties with chimneys that have bends in them – and this is certainly the case for a lot of older properties – this is a great benefit.  
The liner can be installed freestanding and it can mould to take the existing shape of the chimney which maximises the cross-sectional area of the flue. Various other lining systems are a set shape and may reduce the size of the flue which in turn affects performance.
Additionally, the Furanflex liner doesn't adhere itself to the chimney and can therefore be easily removed if necessary.  This makes it an ideal option for heritage properties with listing restrictions which won't allow for permanent changes to the structure.
The Furanflex lining system is guaranteed for 25 years.  In the event of a chimney fire, systems such as stainless steel will need to be replaced before a flue can be used again.  The Furanflex system is able to withstand very high temperatures – and in theory should be able to withstand a chimney fire.  However, any flue that has suffered from a chimney fire should always be inspected along its length prior to being reused.
This system is available in a range of different diameters and lengths which makes it flexible to install – a solution can be found for most types of chimney.
The potential downsides of the Furanflex system are that it is slightly more expensive than other options available.  Having said that, the 25 year guarantee gives the product a much longer life span than some other chimney lining systems, particularly stainless steel liners.
Also, the Furanflex lining system can only be installed by chimney Bristol professionals who have been trained to use the system and have the specialist equipment required to be able to install it.  If you are a self-builder looking for a low cost solution that you can install yourself then the Furanflex system is not for you.
Furanflex comes in two different formats – the Furanflex Black has been tested to 400 degrees Celsius and is suitable for all Decorative Fuel Effect type gas fires, gas and oil heating boilers – especially high efficiency and condensing applications, ductwork, pipes and re-sleeving applications.
Furanflex RWV has been tested to 1000 degrees Celsius and is suitable for solid fuel appliances and solid fuel open fires.
If you would like to see a video showing a Furanflex installation, please click through the Furanflex page on the Turner Baker website here.
The team at Turner Baker have all been trained to carry out Furanflex installations. We have been successfully installed them in residential properties, schools and businesses for the past five years.  
Stainless Steel Chimney Liners
The entry point into chimney Bristol and flue linings is stainless steel.  There are lots of different grades and ratings of stainless steel and it is worth taking the advice of an expert to get the right product for your situation.  
Stainless steel can be available in either a flexible format (to accommodate bends in the chimney or flue) or as a rigid piece. Flexible stainless steel liners are supplied as one long piece whereas rigid stainless steel is supplied in sections which are slotted together.
Flexible stainless steel flue liners are available from Turner Baker Ltd for either multi fuel stoves or for gas and oil appliances.
Flexible Stainless Steel Flue Liners
Multi-Fuel flue liners (Class 1) are available in two basic grades of stainless steel. The standard product is Grade 316 which comes with a 10 year product guarantee, and the higher quality grade 904L comes with a 20 year product guarantee.
The corrugated outer wall provides crush protection during installation. The inner wall is smooth to encourage the flow of flue gasses and to discourage the build up of soot and other potentially corrosive residue.
Gas and oil flexible flue liners (Class 2) however are manufactured out of a single strip 316 grade stainless steel and are designed for atmospheric gas and kerosene appliances where the flue gas temperature does not exceed 260°C. These liners are not suitable for use with solid fuel.
Flexible flue liners are available in a comprehensive range of diameters suiting all applications, from 100mm to 350mm.
Twin Wall Rigid Stainless Steel Flue Systems
Twin Wall Flue Systems are modular insulated flue and chimney Bristol systems that can be used either internally or externally. Turner Baker Ltd can supply systems for a range of applications:
High and low temperature applications

Positive and negative pressure

Condensing appliances.

Solid Fuel, including Biomass

Gas and Oil Appliances
The liner units are constructed using a stainless steel inner liner, with at least 25mm of insulation, surrounded by a structural outer skin. Units are retained in place using locking bands and braced to adjoining structures with wall bands. The flue can then be constructed either externally or internally through the property or building, or can be free standing.
Turner Baker Ltd are able either to supply and install stainless steel flue products or, in consultation with the client, put together a full flue kit for self-installation.
The Positives and Negatives of Stainless Steel Liners
Positives
Relatively inexpensive

Can be installed as  a freestanding unit either on the inside or outside of a property

Can be used to refurbish existing flues
Negatives
Short lifespan – many stainless steel liners are only guaranteed for 10 years

Will not withstand any chimney fire

Can corrode rapidly with the use of certain fuels

Easy to damage on installation
There are many different types of chimney Bristol and flue lining available to suit both residential and commercial purposes. If you would like to discuss your requirements further please call Turner Baker Ltd on 01432 839123 to talk to a specialist who will be able to advise on which products will work for your situation.  We can put together a kit list of items required, and construct a quote for those items that you need.