What are the benefits of a chimney survey?
Benefits of Having a Chimney Survey
What are the benefits of having your chimney surveyed? Most importantly, it will give an indication of the safety of your chimney.
When you use your open fire, wood burner, gas appliance or boiler you want to do so safe in the knowledge that any fumes produced can escape up the flue without any risk of carbon monoxide poisoning or a chimney fire.
A flue is a hidden part of your property which can pose various risks to your safety.
A chimney survey can give you a detailed understanding of the condition and is very useful in the following scenarios:
In older properties when looking at reinstating a flue that hasn't been used for a long time
When purchasing a new property to check if flues are safe to use in their existing condition
Following a chimney fire to find out if there has been any damage to the flue
To plot the course of a flue in an older property
To provide evidence to Insurance Companies on the condition of the flue
The equipment that we use
A CCTV survey uses modern camera technology to review and record exactly what the inside of a flue looks like. A small, robust miniature CCTV camera with powerful lights is passed through the flue on support rods.  It is passed through the entire length of the flue and the footage that is captured can be used to identify any potential hazards.
What we are looking for
We have seen lots of things on CCTV footage of flues.  Birds' nests and cobwebs are the obvious things but here are a few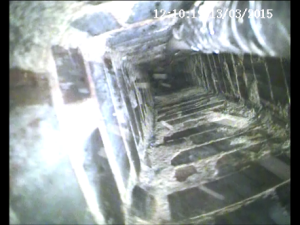 that you might not have thought about:
Loose masonry and mortar joints
Timber lintels lodged into the brickwork
A ledge or cubby hole
RSJs or steels
Spit mechanisms for roasting over a fire
Edward Turner, our chimney expert says "Turner Baker carry out a lot of CCTV surveys.  The things that we are looking to find out are – is the chimney flue lined or part lined (picture right shows an unlined flue); what the condition of the flue is like – are there are any loose mortar joints that might leak smoke or dangerous fumes into another part of the property?  Are there are any blockages, such as birds nest or loose masonry.  The older the property, often the more interesting the finds."
How do I prepare for a chimney survey?
All of the Turner Baker Chimney Technicians are trained to use CCTV equipment.  The camera is battery operated so doesn't require access to a power point.
Prior to any ch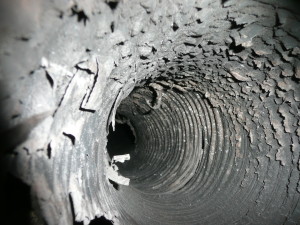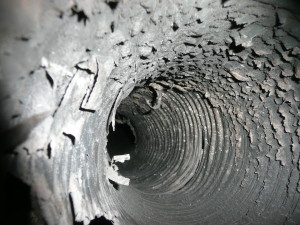 imney survey the flue should be swept to remove any debris and expose the surface of the flue.  The area around the fireplace should be cleared to give the Technicians space to work. They will use protective materials to ensure that any dust or debris that may be dislodged during the survey can be cleared away.
Other surveys available
A CCTV survey will give detailed information on the condition of the inside of your flue.  What it won't tell you is how well your flue works.  To establish this, there are two different smoke tests available.
A Dynamic smoke test – checks the draw of an appliance or open fire.  In other words, when the fire is lit, a dynamic smoke test is designed to establish if the smoke escapes up the flue efficiently or if it fills the room with smoke. This is the test that most chimney sweeps will offer to undertake.
A Static smoke test – checks the integrity flue.  When an appliance is used or a fire is lit, does smoke leak from the flue into other areas of the property.
Turner Baker regularly carry out both CCTV surveys and smoke tests in all kinds of different properties, both residential and commercial.
If you would like more information please go to our website www.turnerbaker.co.uk or contact Turner Baker on 01432 839123
If you are personally looking for a flue, then contact one of our regional branches for a:
Chimney Flue in Cheltenham: 01242 649660
Chimney Flue in Shrewsbury: 01743 343544
Chimney Flue in Worcester: 01905 611663
Chimney Flue in Hereford: 01432 839123
Chimney Flue in Oxford: 01865 236763
Chimney Flue in Bristol: 0117 336 0470
Chimney Flue in Cardiff: 02921 151303
Chimney Flue in Leamington Spa: 01926 257404